A New Quest for Polly Hill Arboretum!
Posted August 14th, 2020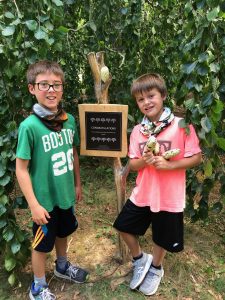 The Arboretum has had its own quest in past years, and was at one time part of an Island-wide quest. Youth Educator Elliott Bennett recently revived this fun tradition with a fresh take. Designing a new Arboretum quest along with Education, Membership, and Outreach Coordinator Ann Quigley, Elliott has created an engaging way for kids and families to discover the unique plants of the Arboretum, bringing them to corners of the grounds they may never have explored, and providing fascinating plant facts along the way. Enjoy a safe outdoor activity with family and friends, pose next to the plaque you will find upon completing the quest, and if you want, share your success on social media and encourage others to try it out.
Quest maps can be found in front of the Visitor Center. Arboretum admission is $5; Free for children under 9, and free for PHA members.
Note: Our Visitor Center, Far Barn, and public restrooms are closed until further notice during the COVID-19 pandemic. We will announce the reopening of our buildings when it is deemed safe.