VISIT

The grounds are open year-round, from sunrise to sunset. The Visitor Center and plants sales are open 9:30am – 4pm through Monday, Oct. 9, 2023. A map brochure is available in the Visitor Center and in the parking lot kiosk. No dogs please. $5 admission, free for members & children 12 and under.

SUPPORT THE ARBORETUM

Help support our mission of plant research, education & conservation by becoming a member or donating today.

PROGRAMS

See our programs calendar for upcoming tours, talks, and classes.

SUBSCRIBE

Sign up for email updates on news and programs.
Welcome to the Polly Hill Arboretum
The Polly Hill Arboretum, a Martha's Vineyard horticultural and botanical landmark, was developed by the legendary horticulturist, Polly Hill (1907-2007). Here in 1958, Polly began an arboretum by sowing a seed, eventually bringing 20 acres under cultivation while preserving 40 additional acres as native woodland. Established in 1998 as a nonprofit institution, the Arboretum is devoted to the cultivation and study of plants and the preservation of the character and magic of this tranquil landscape.
Rare trees and shrubs from around the world are set among stone walls, meadows, and fields, including Polly's famous North Tisbury azaleas, the national stewartia collection, camellias, hollies, rhododendrons, crabapples, conifers, magnolias, and many more. The kousa dogwood allée, perennial border, monkey puzzle tree, and the Julian Hill magnolia are favorites with visitors.
PHA is Hiring!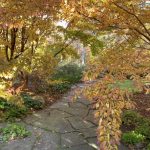 Grounds Horticulturist, Full-time
PHA seeks an experienced and enthusiastic horticulturist who is a team player to help maintain the Arboretum's diverse living collections and grounds, including 40 acres of preserved woodlands. Primary responsibilities include tree and shrub planting and care, grounds maintenance, and equipment upkeep. The Grounds Horticulturist leads tours and educational classes, assists with Arboretum events, and engages with visitors, colleagues, and staff. This position is full-time, year-round. Position details here.
To apply, email cover letter, resume, and three references to [email protected] or call 508-693-9426 for more info.
Applications accepted through October 22, 2023.
Fall is a great time to plant your garden and landscape!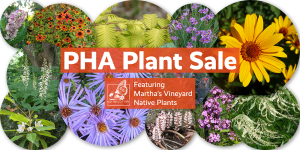 The Fall Plant Sale is here! Beginning Saturday, September 2, all perennials, shrubs and trees will be discounted; 20% off for nonmembers and 30% off for members!
Visit our online MV Wildtype native plug sale, beginning September 8! Landscape plugs, grown in narrow sleeves with a long 5″ root depth, are an economical way to add native plant diversity. The small size will quickly establish in your garden.
The Visitor Center and plant sales will be open for the season until Monday, October 9. The Visitor Center will be closed on Mondays through October 2. The grounds remain open year-round, sunrise to sunset.
Staff Housing Initiative

As PHA celebrates its 25th year as a public garden, we are proud to of our accomplishments and work towards a bright future, but that future depends on our ability to hire and retain staff. This project addresses the impact of the Island's housing crisis on our organization, and will help us attract and retain qualified personnel, which is essential in accomplishing our mission now and in the years ahead.
After several years of thoughtful consideration and strategic planning toward solving our housing challenges, we have begun to build staff housing on campus, and we need your support to meet this challenge! We look forward to partnering with our members, supporters, and the Island community to help secure the future of Polly Hill Arboretum.
View the staff housing case statement Donate to the PHA Staff Housing Initiative
Plant Selection Guide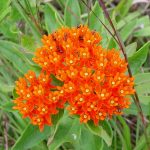 Need help finding the right plant for your landscape and site conditions? Check out our web-based searchable plant selection guide. Searches are based on site conditions, native region, plant type and plant characteristics. Each category has more detailed options, allowing your search to narrow down plant options for each location.
Read more about the guide here
Arboretum Explorer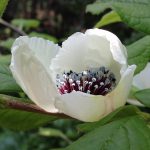 Search for plants in the Arboretum's collection, view plant locations on an interactive map, and see plant photographs in flower or fruit! This program is both desktop and mobile-friendly, allowing you to access information from your home or with a mobile device while touring the grounds. Plants can be found using the common or scientific name, plant family, country of origin, or location on the Arboretum grounds. Arboretum Explorer has the added benefit of drawing data directly from our collections database, so the information will always remain current. We are eager to hear visitor feedback on this new offering! Click here to open Arboretum Explorer
PEST ALERT
Beech Leaf Disease (BLD)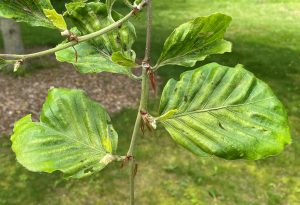 This past May, arboretum staff discovered (BLD) Beech Leaf Disease in our collections and natural areas.
To read more about the disease click here.
PHA Weather Station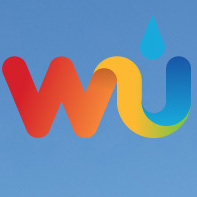 Interested in West Tisbury weather information? Polly Hill Arboretum has its own weather sensor! Our sensor, which resides in the Arboretum's north field, is located to maximize wind and rainfall accuracy. Latitude / Longitude: N 41 ° 23 ' 47 ", W 70 ° 40 ' 39 " Elevation: 33.
Click to view our station on Weather Underground.
Proud Member of the APGA: