Donate
The Polly Hill Arboretum relies on the generosity of its members and friends to provide the funding support that is critical to the care of our collections and the continuation of our programs.
Our annual operating expenses are supported with funds raised through membership, donations, and our spring and fall appeals. Voluntary contributions to our appeals are an opportunity to support PHA in addition to membership dues. Gifts to this appeal provide direct support to our daily operations; activities such as maintaining the grounds, preparing the collections for winter, organizing school group tours, collecting seed, and updating plant records.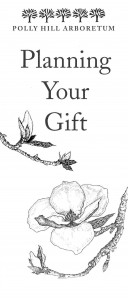 Planned Giving is also a meaningful way to support the Arboretum now and into the future. For more information please call our director Tim Boland at 508-693-9426.
Thank you for your support as we work to maintain the Arboretum in a manner that honors Polly Hill's lifework. We will use your gift wisely to meet practical needs.
Privacy Policy
The Polly Hill Arboretum does not distribute, sell, or trade member or donor information.