THE FLORA OF DUKES COUNTY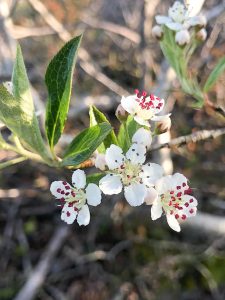 The Flora of Dukes County is a comprehensive list of the vascular plants known to occur presently and historically on Martha's Vineyard and the Elizabeth Islands. Most of the extensive botanical survey work done in recent years has focused on Martha's Vineyard; it should be noted that taxa known only to occur in the Elizabeth Islands (in terms of Dukes County) which are listed as "historic" are likely to hold that status not as a reflection of their absence, but rather due to limited contemporary surveying of those sites.
Click here to view the Flora of Dukes County
About The Flora of Dukes County Project
This is our first abridged draft of the Flora of Dukes County, which will form the backbone of a more detailed, extensive hard-copy publication. We hope to maintain this digital version of the Flora as an iterative, living document that reflects the dynamic nature of our landscape, to be updated annually as new taxa are observed, taxonomy shifts, and conservation statuses change. Future iterations of this list will include habitat information, more extensive taxonomic notes, and other data.
In 2019, Polly Hill Arboretum's herbarium was granted official status as a research collection through Index Herbariorum, a worldwide index administered by the New York Botanical Garden that coordinates over 3,400 herbaria. Our member reference code, PHARB, was established to identify our collections in research publications. With this designation, we are now able to not only lend specimens to collaborating institutions but also borrow and receive loans.
When you examine a beautiful dried specimen with its accompanying collection data on the label, a tremendous amount of work goes into it before making it into our controlled storage cabinets. Its starts with finding the plants, sampling the plant, and recording site data. The plants move into a dryer and later are glued and mounted. The next step is freezing them to eliminate any insect pests that can damage them. After this, their labeled and eventually scanned and added to our digital herbarium. The whole process is enabled by people power! Every individual along the way contributes to the success of our herbarium. We want to thank both private landowners and our conservation partners who have permitted us to document plants on their land, and the stewards of these lands who are our collecting partners. Finally, we also recognize the good work before us that set the stage for our success—the original Martha's Vineyard Sandplain Restoration group, and Director Emeritus Stephen Spongberg, who championed the PHA to become the repository for the flora. We also thank the hundreds of individuals who have volunteered countless hours to help create an invaluable scientific resource for Martha's Vineyard island and beyond.
For a more detailed history of the herbarium and its origins, see our herbarium page.
Outside of the hard work and dedication of the people mentioned above, the Consortium of Northeast Herbaria (CNH) and the collections of its member institutions have been an invaluable resource in producing this flora. The CNH is a network of regional herbaria with a searchable web portal that aggregates specimen data from all of these institutions, making it accessible for research and to the general public.
How to Use This Document
The Flora is organized first by family (in the order of most ancient to more recently evolved) and then alphabetically by species.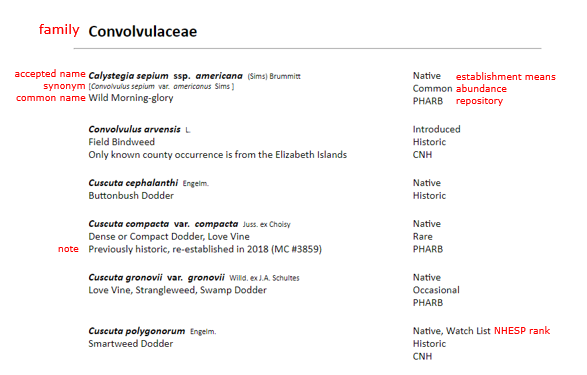 Accepted name: the scientific name currently recognized by botanical experts
Synonym: scientific name(s) previously attributed to the taxon, but not currently recognized as legitimate
Common name: the non-scientific name(s) the plant is known by in our regular vernacular
Establishment means: how this taxon came to be present in our flora
Native: believed to have existed within the plant communities present before European settlement
Introduced: did not naturally exist in this landscape before European settlement
NHESP rank: the taxon's state conservation status according to the MA Natural Heritage and Endangered Species Program; only shown when applicable
Endangered: in danger of extinction throughout all or a significant portion of its range, or in danger of extirpation from Massachusetts
Threatened: likely to become endangered within the foreseeable future throughout all or a significant portion of its range, or to be declining or rare as determined by biological research and inventory, and likely to become Endangered in Massachusetts in the foreseeable future
Special Concern: documented by biological research and inventory to have suffered a decline that could threaten the species if allowed to continue unchecked, or occurring in such small numbers, or with such a restricted distribution, or specialized habitat requirements, that it could easily become Threatened within Massachusetts
Watch List: unofficial, non-regulatory list of plants of known or suspected conservation concern that NHESP is interested in tracking
Abundance: the observed/estimated frequency in which this taxon occurs within our local plant communities
Abundant: seen frequently across a broad range of plant communities, and almost always occurs where its habitat is found
Common: occurs frequently within one or a few specific plant communities or occasionally across a range of plant communities
Occasional: sometimes present in certain plant communities; as likely to occur as not occur in its typical habitat
Uncommon: seen infrequently in its typical habitat, slightly more likely to be absent than present
Rare: unlikely to be seen in its typical habitat, with few observations recorded in the county
Historic: previously recorded as occurring, but not observed since the year 2000
Unknown: more survey or taxonomical verification needed before an estimate can be made
Repository: where one can find the existence of a physical herbarium voucher
PHARB: a specimen can be found in the Polly Hill Arboretum Herbarium
CNH: a specimen does not exist at PHARB, but is deposited at a different regional herbarium that is a member of the Consortium for Northeast Herbaria
If there is no repository listed, it indicates the absence of a known and verifiable physical record of a taxon's occurrence; the inclusion of these plants in the flora is based off of reputable historic observation
Note: miscellaneous notes about a taxon's status or inclusion; if a specific collection represents the first observation of a taxon in this county or re-established a plant from a previous historic status since the last published flora, the initials of the collector and the year, collection number (if applicable), or both will be listed
EH: Erin Hepfner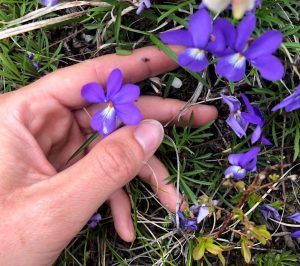 EL: Elizabeth Loucks
ET: Elizabeth Thomas
GP: Gregory Palermo
JR: Julie Russell
KF: Kristen Fauteux
MC: Margaret Curtin
MDC: Melissa Dow Cullina
TB: Timothy Boland
Excluded Taxa
The following taxa were included in earlier publications of the Flora, but have been removed from the current version for the reasons given below.
Cerastium arvense L.
Original inclusion in flora justified by neither specimen nor anecdote
Dichanthelium acuminatum ssp. fasciculatum (Torr.) Freckmann & Lelong
Now recognized as Dichanthelium huachucae
Dichanthelium lanuginosum (Elliott) Gould
Now recognized as Dichanthelium huachucae
Fallopia cristata (Engelm. & Gray) Holub
Regarded as synonym of Fallopia scandens
Hieracium ×fernaldii Lepage
Regarded as synonym of Hieracium umbellata
Hieracium kalmii L.
Regarded as synonym of Hieracium umbellata
Humulus japonicus Sieb. & Zucc.
Based on a specimen that was later annotated to Humulus lupulus
Lechea intermedia Leggett ex Britt.
Based on a record that was later annotated to be Lechea maritima
Scirpus atrovirens Willd.
Original inclusion in flora justified by neither specimen nor anecdote