HERBARIUM (PHARB)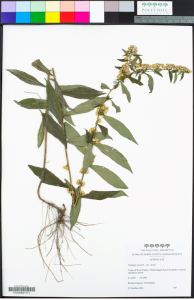 Botanic gardens and arboreta use herbarium specimens to verify the authenticity of their living plant collections. The PHA has a scientific approach to plant collections and a commitment to plant records. In addition to ensuring correct nomenclature, the herbarium specimens create an historical record of the plants at the Arboretum. Herbarium sheets also verify our plant exploration activities on Martha's Vineyard, in eastern North America, and in Asia. With each voucher specimen is accompanying ecological and habitat information. These specimens and the accompanying data document the physical occurrence and distribution of plants over time. The information is stored in our plant records database and shared with local, state, regional, and national conservation organizations.
These reference collections are used for a variety of activities including the documentation of environmental changes over time. A recent study recently published in the American Journal of Botany highlights the remarkable value of archived plant specimens in our understanding of seasonal and climate change. PHARB has become the hub for documenting the flora of Dukes County, and routinely works with the Massachusetts Natural Heritage & Endangered Species Program, as well as botanists from other local and regional conservation groups, to document and preserve the area's rare native plants.
The PHA's herbarium collection began in 2001, with a gift of algae specimens from the late island resident and seaweed expert Rose Treat. Since then our local plant documentation work has led to numerous specimens of lichens, mosses, marine algae, and vascular plants and includes almost 4,000 herbarium specimens (2021).
Arboretum Herbarium Reaches Milestone (May 2019)

Herbaria, collections of identified, pressed, and dried plants mounted on archival paper, serve multiple roles. Arboreta, botanical gardens, and universities use these reference collections for research, including plant identification, documentation of environmental changes, development of a local flora, and the distribution of rare plants. Polly Hill Arboretum's herbarium has been granted official status as a research collection through Index Herbariorum, a worldwide index administered by the New York Botanical Garden that coordinates over 3,400 herbaria. Our member reference code, PHARB, will be used to identify our collections in research publications.
Nearly 4,000 of our herbarium specimens represent the naturally occurring flora of Dukes County, Massachusetts; this includes both native and non-native plants but excludes cultivated plants. Over the last ten years, PHA has added numerous voucher specimens to our herbarium, many of which are from PHA research associate Greg Palermo and his collecting partner, Margaret Curtin. Greg and Margaret have discovered many new county records (over 130 and counting!), four state records, a national record (a sedge never before collected in the U.S.), and rediscovered many plants not documented on the Island in over 60 years. In addition, PHA research associate Melissa Cullina has made extensive aquatic plant collections through botanizing in our coastal ponds. Additional collections have been made by members of the Martha's Vineyard Floristic Study Group, a consortium of conservation groups and individuals devoted to the identification and protection of the flora of Martha's Vineyard.
When you look at an herbarium voucher, such as those in our storage cabinets, it represents a remarkable thread of work, from field collection to identification, to finally being placed in the herbarium cabinet. The physical preparation, including artful layout and meticulous gluing of specimens, is carried out by a small group of talented volunteers who meet in the winter months. Currently, our dedicated crew includes Dorie Godfrey, Annie Fisher, Barbara Caseau, Martha Hubbell, and Donna Paulnock. Each pressed specimen is a pleasing combination of beauty and utility, almost a botanical work of art. While proud of our outdoor living collections, we are also proud of our pressed plant collections that have enabled us to reach this milestone!
The Origins of the Dukes County Flora

A Flora is never static; it is always evolving with new plants appearing, some unfortunately disappearing, and with the challenges of a warming climate, many under the threat of local extinction. Reaching back to the original assemblage of the Flora, an immense debt of gratitude is due to the efforts of the Martha's Vineyard Sandplain Restoration Project. The group's publication of the Flora of Martha's Vineyard (first printing in 1997, second printing in 1998) was dedicated in memory of Anne Prescott Hale, a native plant advocate and conservationist. This extensive compilation by Debra L. Swanson and Carol Knapp would establish the first published listing of the Flora.
Upon the establishment of the Polly Hill Arboretum (PHA) in 1998, Director Emeritus Stephen A. Spongberg initiated a renewed effort to begin a comprehensive approach to studying the plant life of Martha's Vineyard, including both vascular and non-vascular plants. At that time, the conditions at PHA were not ideal for storing a large collection of preserved plant samples (known as herbarium vouchers). The first establishment of a curated, labeled collection was through a gift from naturalist Rose Treat. (See "Gift of Rose Treat's marine algae collection sparks the beginning of the Polly Hill Herbarium," Spring 2002, Meristems, the newsletter of the Polly Hill Arboretum.) Prior to this gift, Dr. Spongberg appointed naturalists Carol Knapp and Allan R. Keith as PHA honorary research associates. With this focused effort, now aided by skilled field scientists, the Flora and additional studies devoted to lichens, bryophytes, and fungi occurred more frequently. (See "Polly Hill Arboretum appoints its first two Honorary Research Associates," Fall 2001, Meristems, the newsletter of the Polly Hill Arboretum.)
In 2002, with the hiring of the PHA's first Curator Tim Boland and later his appointment as Executive Director in 2004, the herbarium voucher collection would primarily focus on training plant science interns as part of PHA's educational outreach and his own desire to document oak hybrids on island as part of his special interest in the genus Quercus. A visit by renowned botanist Dr. Peter Raven in the summer of 2006 for his lecture "How Many Plants will Survive the 21st Century," and subsequent meetings with PHA board members, resulted in the incorporation of plant conservation into PHA's mission statement. In 2008, PHA initiated a capital campaign to address the ailing infrastructure on the PHA campus and increase the endowment. That same year, botanist Melissa Cullina joined PHA as a research associate with an initial focus on aquatic plant diversity in the ponds and watersheds of Martha's Vineyard. Working with Executive Director Tim Boland, Melissa taught several plant identification workshops on the island. The students were primarily conservation land stewards and naturalists on Martha's Vineyard. The courses combined both classroom and field studies of complex plant groups such as the grasses, sedges, rushes, goldenrods, and asters.
In 2009, Melissa and Tim would embark on a comprehensive physical review of herbarium vouchers of the New England Botanical Club (NEBC) at Harvard and make repeated visits to the University of Massachusetts Amherst, Herbarium (University of Massachusetts, Amherst-MASS) the William and the Lynda Steere Herbarium, New York Botanical Garden (New York Botanical Garden-NY). This work would coincide with her authorship of a revised Flora of Dukes County, published in The Vascular Plants of Massachusetts: A County Checklist, by Melissa Cullina, Bryan Connolly, Bruce Sorries, and Paul Somers. (2011).
Nomenclatural Revisions and the Establishment of a Floristic Database
Part of the floristic study was the need to update and revise plant names that had changed, sometimes, dramatically. As part of this project we adopted the Flora Novae Angliae: A Manual for the Identification of Native and Naturalized Higher Vascular Plants of New England, Arthur Haines, New England Wildflower Society (2011), as our nomenclatural reference. This exhaustive review of historical voucher collections of New England and their applied names remains the most modern assemblage of the six state regions of the Flora. Haines explains in the introduction, "a major issue centers around regional flora that were not prepared by persons who understood the critical need for museum specimen vouchering. This issue is especially prevalent with authors who do not frequent herbaria or are not intimately familiar with the pertinent literature of their region. This situation is exacerbated when authors do not perform any research to identify if the records are legitimate."
The Flora of Dukes County has the full intention of being a museum voucher-based flora, and not a list of past lists, to avoid perpetuating errors. The authors readily admit that much more research is needed. The continued review of historic collections and the addition of new vouchers remains at the core foundation of the Flora of Dukes County.
In May 2014 a meeting was convened with participants from the MV Land Bank, The Nature Conservancy, Polly Hill Arboretum, and Sheriff's Meadow Foundation to consider our next steps. Many of the participants were part of the original Martha's Vineyard Sand Plain Restoration group that published the first Flora (Swanson, Knapp) in 1997. The group reemerged with a new name: the Martha's Vineyard Floristic Study Group and a new focus: coupling herbarium vouchers and geo-referenced maps.
The ConServator: Conservation Partners Sharing Data
The idea for a Martha's Vineyard cloud-based mapping and database sharing platform was conceived in 2008 and named the ConServator. It started with a Microsoft access database created by Tim Boland and Melissa Cullina. Prior to the 1980s most herbarium specimens had limited locality information and were not accompanied by maps. Today, however, through geographic information systems (GIS), digital mapping technologies, and cloud-based data sharing, we can record a collected plant's location within 20 feet or less using our cellphones! Using ArcGIS Online and Esri applications, the collection of location, species, and habitat data can be simultaneously uploaded and accessible from any computer. The linking of our nomenclatural database with digital maps was made possible in 2014 when Jessica Dyson, GIS manager for the Massachusetts office of The Nature Conservancy, was approved as a PHA research associate.
Research Associates Greg Palermo and Margaret Curtin: A dynamic floristic duo!
Also in 2014, Gregory Palermo became a PHA research associate with a specific focus on the Flora of Martha's Vineyard. Greg not only supported the Flora project as a collector but also as a strong advocate for bringing expert botanists to help train members of the floristic study group in the identification of Island plants. Over the next several years, Greg and his collecting partner, Margaret Curtin (PHA research associate 2019), would become the most accomplished island field botanists, discovering many county records and a national record! Their combined dedication and passion for collecting and identifying both native and non-native plants changed the dynamic of our efforts to physically voucher the Flora. In the words of Executive Director Tim Boland, "the intensity in which Greg and Margaret study the Flora is inspirational and impressive. When you look at a map of hundreds of Island data points and their corresponding physical vouchers, our herbarium has grown each passing year into the scientific resource we dreamed about going back to our origins."
Education Center and Botany Lab (EBL) Opened in 2016
On August 19, 2016 PHA officially opened the new Education Center and Botany Lab (EBL). This new science and education center was ten years in the making and a long-time dream of PHA's board and staff. After years of storing our herbarium vouchers in various buildings on campus, they were consolidated into our new climate-controlled herbarium cabinets. Eight cabinets on the first floor of the building house new specimens and two cabinets in the basement contain historic specimens. The botany lab has a drying cabinet and effective lighting that allows volunteers to prepare herbarium voucher specimens in a comfortable, well-lit space. "The EBL is a remarkable accomplishment and facility that we all take pride in. Years of dreaming about becoming the plant science organization on Martha's Vineyard have come true. The future of collecting voucher specimens both on-island and off are now possible with both our current space and the opportunity for expansion," says Tim Boland, Executive Director.
Arboretum Herbarium Reaches Milestone
In 2019, Polly Hill Arboretum's herbarium was granted official status as a research collection through Index Herbariorum, a worldwide index administered by the New York Botanical Garden that coordinates over 3,400 herbaria. Our member reference code, PHARB, was established to identify our collections in research publications. With this designation, we are now able to not only lend specimens to collaborating institutions but also borrow and receive loans.
It takes an Island village to make a Flora!
When you examine a dried plant specimen with its accompanying collection data on the label, it represents a tremendous amount of work that goes into it before making it into our controlled storage cabinets. It starts with finding the plants, sampling the plant, and recording site data. The plants then move into a dryer and later are glued and mounted. The next step is freezing them to eliminate any insect pests that could damage them. After this, they are labeled and eventually scanned and added to our digital herbarium. The whole process is enabled by people power! Every individual along the way contributes to the success of our herbarium.
We want to thank both private landowners and our conservation partners who have permitted us to document plants on their land and the stewards of these lands who are our collecting partners. Finally, we also recognize the good work before us that set the stage for our success: the original Martha's Vineyard Sandplain Restoration group, and Director Emeritus Stephen Spongberg, who championed PHA to become the repository for the Flora. We also thank the hundreds of individuals who have volunteered countless hours to help create an invaluable scientific resource for the island of Martha's Vineyard and beyond.
PHA has become the central resource for the Flora of Martha's Vineyard and Dukes County. Currently, nearly 4,000 specimens have been collected and prepared and are held in our herbarium.
Click here for more info and to view the Flora of Martha's Vineyard.
Acknowledgments:
Conservation Partners:
The Martha's Vineyard Landbank
Sheriff's Meadow Foundation
The Nature Conservancy – Cape and Islands Division
Mass Audubon's Felix Neck Wildlife Sanctuary
The Trustees of the Reservation
Vineyard Conservation Society
Vineyard Open Land Foundation
The Massachusetts Department of Conservation and Recreation – Manuel F. Correllus State Forest
Biodiversity Works MV
Wampanoag Tribe of Gay Head (Aquinnah)
Towns of Aquinnah, Chilmark, Edgartown, Oak Bluffs, West Tisbury, Vineyard Haven
Permitting Agencies:
Massachusetts Division of Fisheries and Wildlife
Massachusetts Natural Heritage and Endangered Species Program
Granting Agencies:
The Edey Foundation
Herbarium Coordinators
The PHA has had the good fortune to have outstanding work coordinating the entire process of voucher collection, preparation, reporting, and monitoring of our collections for potential pest problems. We thank former PHA employees Erin Hepfner, Thomas Murphy, and Elizabeth Thomas for overseeing the process and care of our collections in their most formative early years.
PHA Research Associates
We would like to thank our Research Associates (past and present) for their contributions to the flora of Dukes County.
Carol Knapp
Allan Keith
Jessica Dyson
Mellissa Cullina
David R. Foster
Matthew Lobdell
Thomas Clark
Gregory Palermo
Margaret Curtin
Elizabeth Thomas