Guided Tours Have Resumed!
Posted September 8th, 2020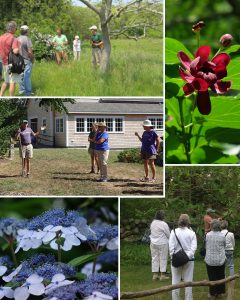 We are now offering small-group, socially distant tours!
We are happy to announce the resumption of guided tours on a limited basis, with new considerations for coronavirus safety. Tuesday and Thursday mornings we will offer tours led by volunteer docents with advanced registration required to ensure small groups and the ability to socially distance. SIGN UP HERE!
SAFETY: In order to help prevent the spread of the COVID-19 virus, each tour is limited to either 4 or 6 adults (no children under 12, sorry). Please do not attend a tour if you don't feel well, or if you have recently been exposed to someone with a known case of COVID-19. Guides will wear masks, and we ask that all visitors wear masks for the duration of your time on the Arboretum grounds, for the safety of yourselves, other visitors, and our volunteer docents. Please practice social distancing between other visitors and your tour guide.
HOW IT WORKS:
Select one or multiple boxes marked "sign up" next to your desired date & time based on how many people are in your party. Sorry, we cannot allow groups larger than the allotted number of slots. No children under 12. No dogs.
If you do not sign up for all of the available spaces during your chosen time slot, someone from another party may take the remaining space(s) and join your tour. These tours are not private unless you have registered for the maximum group number in your party.
CANCELATION:
Please check your email (the address you signed up with) on the evening prior to your tour to make sure you have not received a cancelation notice. Cancelation may result from inclement weather, or at the discretion of the Arboretum for any reason deemed appropriate by staff.
If you need to cancel or reschedule, please email "[email protected]" 24 hours prior to your scheduled tour (excluding weekends). This will allow us to fill unused slots or cancel tours that have insufficient registration. We appreciate your consideration in notifying us!