Mindful Morning in the Arboretum
When:
May 18, 2021 @ 9:30 am – 11:00 am
2021-05-18T09:30:00-04:00
2021-05-18T11:00:00-04:00
Cost:
Free with $5 admission; Free admission for PHA members. Registration required.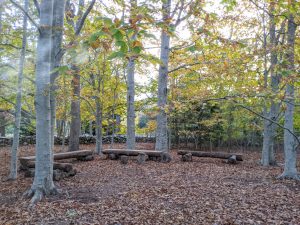 3 Classes on Tuesday, May 18: Sign up for just one, or sign up for one Forest Bathing class and Balance in Nature.
Forest Bathing: 9:30-10:00am, Balance in Nature: 10-10:30am, Forest Bathing: 10:30-11:00am
Join us for a mindful morning at The Polly Hill Arboretum. We will have 2 mindfulness classes; there are two time options for Forest Bathing and one for Balance in Nature. Enjoy a morning of relaxation among the Arboretum trees.
Forest Bathing with Shanta Gabriel: Forest Bathing, or Shinrin-Yoku, a Japanese practice of relaxation in nature, has been shown to improve immune response, mental performance, and creativity. Enjoy an easy, mindful walk through beautiful Arboretum trees in a special environment.
Balance in Nature with Kanta Lipsky: Deepen your appreciation of nature by joining in a mindful half hour of gentle movements drawn from the Chi Kung tradition of Tai Chi with Kanta Lipsky. Set among the Arboretum's diverse collection of trees, this practice will strengthen our connection to the earth and increase our body's ability to maintain good balance.
Class sizes are limited to help prevent the spread of COVID-19, and allow for social distancing. Registration is required. Each class is Free.
Sign up here: PHA-Mindful-Morning