Visit Polly Hill Arboretum
Visit the Arboretum frequently and discover the extraordinary range of plants that can be grown successfully on Martha's Vineyard.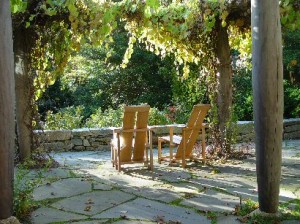 There is always a reason to visit PHA! Whether you have a special interest in plants, would like to share a special outing with family or friends, or are simply looking for a quiet walk on your own, our grounds are sure to please.
Our grounds are open everyday from sunrise to sunset. The Visitor Center is open from 9:30am to 4pm daily from Memorial Day to Columbus Day. Check our programs calendar to view upcoming scheduled tours. Self-guided tours are available at our Visitor Center or parking lot kiosk. We have a $5 admission; members and children under 12 are free.
In addition, families may try our Family Explorer Backpacks. The packs, available at the Visitor Center, are a fun, educational way for families to tour our grounds. Packs may be checked out during Visitor Center hours or call in advance to reserve in the off season.


Arboretum Hours
Grounds open Sunrise to Sunset year 'round
Admission
Your support helps us grow!
Members free
*Adults $5
*Children 12 and under free
Visitor Center
Hours: 9:30 am – 4:00 pm daily, from Memorial Day weekend through Columbus Day.*
*Our Visitor Center, bathrooms, and other buildings are closed until further notice due to the coronavirus pandemic. The grounds remain open. Check our programs calendar for occasional grounds closures.
Tours
Check our programs calendar for the schedule of Arboretum guided tours. Tours are included with price of admission. To arrange a specialized tour for a large group, please contact [email protected] (additional fees may apply for specialized tours).
Accessibility
Topography is level but grounds and pathways can be uneven in places. All public spaces are handicapped accessible. Thanks to a generous gift we have a lightweight, maneuverable wheelchair available. To us the wheelchair, call (508-693-9426) to reserve it in advance of your visit. Please note that a companion is needed to push the wheelchair.
Please
Picnic in the designated area near the Visitor Center
Fires and smoking are prohibited
Leave Bicycles in the racks provided in the parking lot
Pets are not allowed
Do not climb on trees, walls or fences
Respect areas indicated as private
Come often and enjoy the seasonal changes