HERBARIUM (PHARB)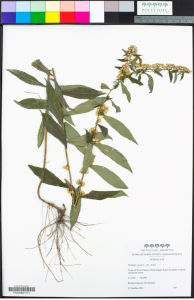 Botanic gardens and arboreta use herbarium specimens to verify the authenticity of their living plant collections. The PHA has a scientific approach to plant collections and a commitment to plant records. In addition to ensuring correct nomenclature, the herbarium specimens create an historical record of the plants at the Arboretum. Herbarium sheets also verify our plant exploration activities on Martha's Vineyard, in eastern North America, and in Asia. With each voucher specimen is accompanying ecological and habitat information. These specimens and the accompanying data document the physical occurrence and distribution of plants over time. The information is stored in our plant records database and shared with local, state, regional, and national conservation organizations.
These reference collections are used for a variety of activities including the documentation of environmental changes over time. A new study recently published in the American Journal of Botany highlights the remarkable value of archived plant specimens in our understanding of seasonal and climate change. PHARB has become the hub for documenting the flora of Dukes County, and routinely works with the Massachusetts Natural Heritage & Endangered Species Program, as well as botanists from other local and regional conservation groups, to document and preserve the area's rare native plants.
The PHA's herbarium collection began in 2001, with a gift of algae specimens from the late island resident and seaweed expert Rose Treat. Since then our local plant documentation work has led to numerous specimens of lichens, mosses, marine algae, and vascular plants and includes almost 4,000 herbarium specimens (2021).
Arboretum Herbarium Reaches Milestone (May 2019)

Herbaria, collections of identified, pressed, and dried plants mounted on archival paper, serve multiple roles. Arboreta, botanical gardens, and universities use these reference collections for research, including plant identification, documentation of environmental changes, development of a local flora, and the distribution of rare plants. Polly Hill Arboretum's herbarium has been granted official status as a research collection through Index Herbariorum, a worldwide index administered by the New York Botanical Garden that coordinates over 3,400 herbaria. Our member reference code, PHARB, will be used to identify our collections in research publications. We've come a long way from our modest yet auspicious beginnings: a gift of seaweed specimens made by naturalist and artist Rose Treat in 2003.
Nearly 4,000 of our herbarium specimens represent the naturally occurring flora of Dukes County, Massachusetts; this includes both native and non-native plants but excludes cultivated plants. Over the last ten years, PHA has added numerous voucher specimens to our herbarium, many of which are from PHA research associate Greg Palermo and his collecting partner, Margaret Curtin. Greg and Margaret have discovered many new county records (over 130 and counting!), four state records, a national record (a sedge never before collected in the U.S.), and rediscovered many plants not documented on the Island in over 60 years. In addition, PHA research associate Melissa Cullina has made extensive aquatic plant collections through botanizing in our coastal ponds. Additional collections have been made by members of the Martha's Vineyard Floristic Study Group, a consortium of conservation groups and individuals devoted to the identification and protection of the flora of Martha's Vineyard.
When you look at an herbarium voucher, such as those in our storage cabinets, it represents a remarkable thread of work, from field collection to identification, to finally being placed in the herbarium cabinet. The physical preparation, including artful layout and meticulous gluing of specimens, is carried out by a small group of talented volunteers who meet in the winter months. Currently, our dedicated crew includes Dorie Godfrey, Annie Fisher, Barbara Caseau, Martha Hubbell, and Donna Paulnock. Each pressed specimen is a pleasing combination of beauty and utility, almost a botanical work of art. While proud of our outdoor living collections, we are also proud of our pressed plant collections that have enabled us to reach this milestone!