Stewartia National Collection
Whether an off-island visitor, an avid gardener, or a professional horticulturist, on a first visit to the Polly Hill Arboretum all fall for the allure of our beautiful stewartia trees.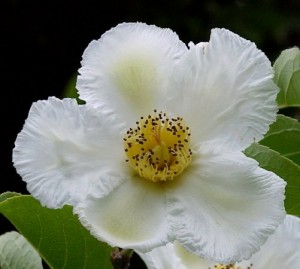 Polly's initial fascination with stewartias—the handsome bark, the pristine flowers—led her to seek out and grow as many species as possible. She planted seeds and patiently waited decades to see the first breathtaking flower. Today the PHA's Stewartia collection numbers over seventy trees with nine distinctive trees named by Polly as cultivars (cultivated varieties.)
As a result of Polly's efforts and our advancements in plant recordkeeping and mapping, a reviewer working on behalf of the North American Plant Collection Consortium (NAPCC) appraised our Stewartia collection for consideration for designation as a national collection. In 2005, after a lengthy on-site review, our collection received membership into the NAPCC. The notification letter states, "Your organization stands among a prestigious group of gardens and arboreta that have committed themselves to the conservation and care of specific plant collections curated at the highest professional level. Participation in the consortium means that you are willing to make your collection available for increased distribution and research, and that you promote public awareness of conservation issues."
The primary objective for the development of an NAPCC national collection is to assemble the most comprehensive collection of plants within a particular genus. The review process includes the examination of our plant records, a review of the health and welfare of our current collection, and consideration of our future plans. The NAPCC is administered by the American Association of Botanical Gardens and Arboreta (AABGA), in cooperation with the USDA Agricultural Research Service and the United States National Arboretum.
Obtaining national collection status means that our impressive collection of stewartia trees will be recognized as the most comprehensive collection in North America. This will position the PHA for future collaborative research projects among scholars and professional horticulturists interested in this valuable group of small flowering trees.
Visit the PHA in late June to early July and see if you too are smitten by the beauty of this unforgettable tree.
PHA Stewartia Featured in RHS Publication
The June 2008 issue of The Plantsman (a publication of the Royal Horticultural Society) featured a genus profile titled "Stewartia in Cultivation." The extensive article, co-written by PHA Executive Director Tim Boland, PHA research associate Eric Hsu, and the director of the Arboretum Wesplelaar in Belgium, Koen Camelbeke, features many plants and pictures from the PHA's living collection.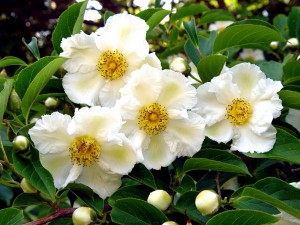 The entire article with pictures can be viewed through the following link: Stewartia in Cultivation