Virtual Presentation: Fabric Dyeing with Botanicals
When:
September 16, 2020 @ 5:30 pm – 6:30 pm
2020-09-16T17:30:00-04:00
2020-09-16T18:30:00-04:00
Cost:
$10; FREE for PHA members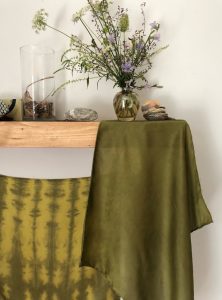 Wednesday, September 16, 5:30-6:30pm
$10; FREE for PHA members. Proceeds benefit Polly Hill Arboretum and help make it possible for us to hold future affordable and free educational programs for our community. Thank you for your support! Register here: bit.ly/Botanical-Dyes-Webinar-2020
Join PHA Plant Recorder and botanical dye enthusiast Elizabeth Thomas to learn how to make and use dye from local plants. The prettiest flowers don't necessarily yield the prettiest dyes (but some do)! The class will cover fabric considerations and preparations, how to choose plant material for dye, different dyeing methods, and caring for finished pieces for long-lasting results. Learn to make your own botanically dyed heirloom pieces and unique gifts.