UPCOMING PROGRAMS

Check our CALENDAR for this season's programs, or our calendar-at-a-glance

VISIT

Our grounds are open everyday from sunrise to sunset, with tours by appointment. No dogs please, $5 donation, free for members and children 12 and under.
Welcome to the Polly Hill Arboretum
809 State Rd.
PO Box 561

West Tisbury, MA 02575
508-693-9426

The Polly Hill Arboretum, a Martha's Vineyard horticultural and botanical landmark, was developed by the legendary horticulturist, Polly Hill (1907-2007). Here in 1958, Polly began an arboretum by sowing a seed, eventually bringing 20 acres under cultivation while preserving 40 additional acres as native woodland. Established in 1998 as a not-for-profit institution the Arboretum is devoted to the cultivation and study of plants and the preservation of the character and magic of this tranquil landscape.
Rare trees and shrubs from around the world are set among stone walls, meadows, and fields, including Polly's famous North Tisbury azaleas, the national stewartia collection, camellias, hollies, rhododendrons, crabapples, conifers, magnolias, and many more. The kousa dogwood allee, perennial border, monkey puzzle tree, and the Julian Hill magnolia are favorites with visitors.
Arboretum Weather Station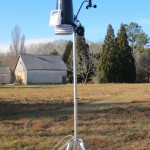 Check out current weather conditions at Polly Hill as reported by our weather station at  Weather Underground  

Winter Walks
Second Saturday of the month, November – March
10am
November 9, December 14, January 11, February 8,
March 8
Every season of the year the Arboretum  landscape offers something of beauty and interest to visitors. This winter on the second Saturday of the month join Arboretum staff to explore the grounds in the "off-season." Tours are at 10am and run for a little over an hour. Meet at the Visitor Center and dress for the weather. Tours are free, but donations always accepted.
Read about Plants of Winter Interest
Rhode Island Garden Tour Planned
Join us for a visit to southeastern Rhode Island next September to visit three private gardens and the Blithewold Mansion, Gardens, and Arboretum. Click here for Itinerary and pricing
Join Our Mailing List

Fo

llow us on Facebook.