The Garden Chair Workshop
Title: The Garden Chair Workshop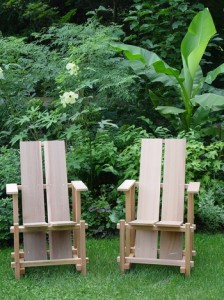 Date: Tuesday, July 9   SOLD OUT!
9am – noon
Description: Back by popular demand, Dan Benarcik, Chanticleer horticulturist and skilled woodworker, will lead a hands-on workshop to build an iconic piece of furniture: the Garden Chair. Adapted for the garden from a famous 1918 Gerrit Rietveld design, this timeless and comfortable chair is suitable for any garden setting. Benarcik has created his own adaptation from a version popularized in the garden at Wave Hill in the Bronx. Using red cedar and stainless steel hardware, participants will create their own durable, useful, and handsome outdoor chair.
Fee: $200/$185 for PHA members.
Extra chair kits are available for $175, per-ordering is required.
Materials and instruction will be provided. Your enthusiasm and a cordless drill are all you need to supply.
Pre-registration required; workshop is limited to 10 participants. 508-693-9426.