Distilling the Essence in Native Planting Design
Title: Distilling the Essence in Native Planting Design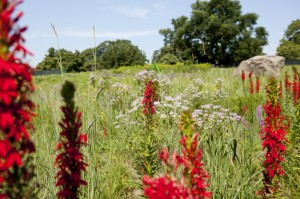 Location: Polly Hill Arboretum
Date: Wednesday, August 28
7:30pm
Description: Join Sheila Brady principal of Oehme van Sweden landscape architects to learn about her recent design project at the New York Botanical Garden. This new Native Plant Garden highlights the beauty, diversity and cultural significance of native plants and showcases the Garden's commitment to education and conservation. In this talk, Brady will illustrate the diversity of native plants used in the garden, the selection and enhancement of patterns from nature and the resultant design that engages and inspires visitors to learn more about natural ecosystems and native plants that are suitable throughout the Northeast.  Brady has designed many large-scale public projects in addition to her award winning private gardens.
Sponsored by Middletown Nursery
$10/$5 for PHA members.