Brooklyn Bridge Park: Promoting Biodiversity in the Concrete Jungle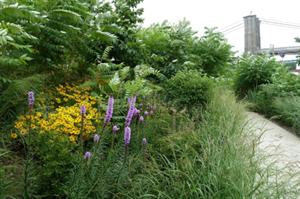 Title: Brooklyn Bridge Park: Promoting Biodiversity in the Concrete Jungle
Date: Wednesday, September 18
7:30pm
Description:
It is projected that half of the 9 billion people on earth in 2050 will live in cities. With development this rapid and rabid, it is critical that we incorporate wildlife habitat into our cities or many organisms are in trouble, humanity included.
Join Rebecca McMackin, Director of Horticulture for Brooklyn Bridge Park, to learn about a park purposely created with ecology in mind.  This 85-acre post-industrial waterfront site stretches 1.3 miles along Brooklyn's East River edge, built in-part on old commercial piers. The park's award winning piers include top notch recreation, from opera to outdoor films, expansive organic lawns, and fantastic food, all of it beautifully designed. But the piers also contain native woodlands, freshwater wetlands, salt marshes, and numerous meadows. These areas closely mimic native ecosystems and are managed with an emphasis on wildlife habitat.
McMackin will discuss the  many ecological strategies employed by the park's designers, Michael Van Valkenburgh Associates, as well as the management techniques currently in use to cultivate biodiverse parkland. Pragmatic strategies for encouraging ecologically beneficial landscapes will be enumerated.

$10/$5 for PHA members