Apple Pruning Workshop
Title: Apple Pruning Workshop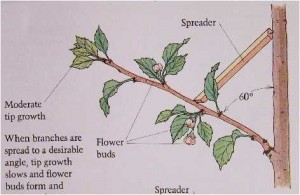 Location: Polly Hill Arboretum
Date: Saturday, March 9
10am – 2pm
Description: A good fruit tree should not make a good shade tree. The primary purpose of pruning is to increase sunlight penetration, remove less productive wood, and shape the crown into an efficient, stable form. A neglected but otherwise healthy tree will usually show a marked improvement in fruit quality as a result of pruning. Join apple expert John Bunker of Fedco Trees in Waterville, Maine, for an apple tree pruning workshop. Find out how to give an old tree new life and what kind of yearly pruning maintenance will keep your fruit trees producing year after year. This workshop begins with a talk on fruit tree pruning then heads outside to a near-by orchard for hands-on pruning. Bring your pruners, lopers and/or pruning saw if you have them. Also bring a brown bag lunch.
CLASS IS SOLD OUT, however space is still available for the morning portion of the program. Join John for a discussion focusing on tools, techniques, and pruning strategies for apples and other fruit trees.
Morning portion: 10am to noon, $25/$20 for PHA members
Call 508-693-9436 or email [email protected] to learn about a in-class only workshop to be held on Sunday, March 10. Apple Pruning Lecture
$55/$45 for PHA members.