What's Happening
Click on Programs to see full listing of events.
For a full listing check our calendar-at-a-glance.
Walk Through Imagination, Sunrise to Sunset through August 31
Family Book Series,   Every Tuesday in July and August, 10:30am
Drawing from Nature, Thursday, July 20 and September 3 & 17, 9:30am – noon
Tick-Borne Disease Initiative, Tuesday, August 18, 6-7pm
The Ginkgo Tree Through History, Wednesday, August 19, 7:30pm
Animal Tracking on a Tiny Scale, Wednesday, August 26, 10am – noon
Plants for Sale!
We have a fine selection of plants for sale all season long! Whether you're a budding gardener or a seasoned veteran, our plant sale will have something for you. Arboretum staff have chosen and grown plants that are noted not only for their superior ornamental qualities but also for their adaptability to Martha's Vineyard. We plan to offer a selection of trees, shrubs, and perennials including many Island natives.
For sale at the Visitor Center, daily from 9:30am to 4pm
Seed Collecting Across the US
PHA staff travel the world in search of seed! This year Curator Tom Clark, Executive Director Tim Boland, and Horticulturist Ian Jochems embarked on botanical road trips in the U.S.A.
In October Tom was on the road in the Carolinas and Georgia focused on locating, documenting, and collecting seed of deciduous azalea species (a particular interest of Polly Hill's). The trip was underwritten by a $2,500 grant from the American Rhododendron Society Research Foundation awarded to PHA to fund Tom's proposal. His collection efforts focused on increasing the genetic diversity in cultivation of three rhododendron species threatened in their native habitat: Rhododendron eastmanii, flammeum and vaseyi. 47 collections were made on his trip including some valuable "off-mission" seed of mountain stewartia as well as other rhododendrons. Tom was accompanied by Harold Sweetman, director of the Jenkins Arboretum in Devon, Pennsylvania. This collaborative trip forms the foundation for future trips to continue conservation work in meeting international goals set forth by the Global Strategy for Plant Conservation.
Also in October (prime month for seed collection) Tim and Ian participated in a seed collection trip to the Ozark Mountain Region of Arkansas. They collected 34 different taxa of plants ranging from trees to herbaceous plants. A few great finds were maple-leaved oak (Quercus acerifolia) and the Ozark witch-hazel (Hamamelis vernalis). The maple-leaved oak is listed as a threatened species with only about 200 known living trees. In addition to Tom and Ian, the botanical team for the Ozark trip included Anthony Aiello, director of horticulture and curator at the Morris Arboretum, and Michael Dosmann, curator of living collections at the Arnold Arboretum.
The results of both these collecting trips help us to grow a stronger wild origin plant collection at PHA while helping to preserve wild plant taxa both in fulfilment of our mission. Look for the rest of the story next summer when Tom, Tim, and Ian present their botanical adventures in an evening lecture.
Arkansas Natural Heritage Commission
American Public Garden Programs (APGA)
Read about our participation in programs offered by the APGA
Recent Articles
Plants of Winter Interest,  Martha's Vineyard Magazine
The Science of Fall Color, Vineyard Gazette
15 Years and Growing Strong,  Read about us in a recent Vineyard Gazette
From Polly's Garden This is a series of articles written for the Vineyard Gazette for the 2012 summer Tuesday editions of the paper. Tim Boland writes on a variety of plant related topics.
Kentucky Coffee Tree
Gymnocladus dioicus 'Espresso' was planted this spring to replace the old mulberry that we lost in the winter of 2012. We really miss the shade from the mulberry and look forward to the shade this tree will provide in the future. This is a moderately fast-growing tree and known as a good shade tree.  The seed may be roasted and used as a substitute for coffee beans; however, unroasted pods and seeds are toxic. The wood from the tree is used by cabinetmakers and carpenters. 
Progress in our new Collections Expansion Garden
Our greenhouse is bursting at the seams! Therefore, several years ago we began planning for a new garden to be developed in the woodlands on the western edge of our cultivated area. After several seasons of clearing the one acre+ site has begun to take shape. Understory vegetation and many dead, unhealthy, hazardous, and undesirable trees have been removed, making way for an eventual woodland garden of pathways and plantings of trees and ornamental shrubs.  The remaining desirable trees have been accessioned, (documented) surveyed, mapped, and labeled and this existing canopy will form the structural basis of the garden. Michael Van Valkenburgh Associates are assisting with the design of the site plan for this space.
Many thanks to our grounds volunteers and Tom Robinson from Island Timber for help with this massive clearing project!
West Tisbury Library Collaboration Project
For several months the Arboretum has been collaborating with a committee form the West Tisbury Library to work on the landscape design for the library renovation project. Part of our mission is to be a plant resource center for our community and share our horticultural knowledge for the benefit and education of others. This project fits this mission perfectly. Read about it here!
Massachusetts Botanical Gardens

We have recently collaborated with other Massachusetts Botanical Gardens to create a website to promote garden visitation in the state.
Check it out to discover the diversity of gardens in our state!
Greenhouse Projects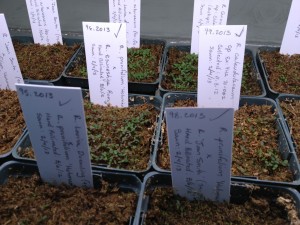 August may seem like an unlikely time to appreciate azaleas, but that is precisely when the white, pink and fiery orange-red flowers of several deciduous azaleas (technically rhododendrons) brighten our mostly green landscape.  Last August PHA staff took advantage of this floral wealth to introduce interns to the science and practice of creating hybrids by controlled, hand pollination.  Polly Hill commented that she wasn't a pollen pusher, but we find no shame in playing the role of match maker!  The seedling shown here are each genetically unique and are the results of our efforts.  These tiny seedlings will grow quickly with supplemental light, warmth and regular fertilization, but it will take several years to evaluate their horticultural merit.  Who knows, but our hope is that a couple will prove to be worthy of naming and introducing…stay tuned!
ArbNet Level IV Accreditation Awarded
We have been awarded a Level IV Accreditation through the Morton Arboretum's Register of Arboreta and Accreditation Program, ArbNet.  The purpose of the Register is to identify all of the organizations that collect and display trees, shrubs, and other woody plants for the benefit of the public, science, and conservation. Organizations listed on the register are accredited at different levels depending on degrees of development, capacity, and professionalism. The Polly Hill Arboretum is now recognized amongst other national and international professional public gardens with the highest level of ArbNet accreditation. Level IV Accredited Arboreta have met the highest levels of arboretum standards, including those specified for Level I, II, and III and demonstrate additional institutional capacity to collaborate on scientific and conservation activities related to trees. For more information about the program go to www.arbnet.org