What's Happening
Click on Programs to see full listing of events.
Winter Walks: second Saturday of the month, November – March, 10am
Next walk is Saturday, March 8 at 10am
Holly "Hat Racking" Demo: Saturday, March 15, 10am – noon
Eccentric Edible Trees, Saturday, March 29, 10-11am
American Public Garden Programs (APGA)
Read about our participation in programs offered by the APGA
Recent Articles
Plants of Winter Interest,  Martha's Vineyard Magazine
The Science of Fall Color, Vineyard Gazette
15 Years and Growing Strong,  Read about us in a recent Vineyard Gazette
From Polly's Garden This is a series of articles written for the Vineyard Gazette for the 2012 summer Tuesday editions of the paper. Tim Boland writes on a variety of plant related topics.
Rhode Island Garden Tour Planned
September 24-26, 2014
Join us for a visit to southeastern Rhode Island. This historic area is rich with diversity, natural beauty and culture. We will be based in the Narragansett Bay town of Bristol for two nights. Thursday we travel to Little Compton to visit three spectacular private gardens, with lunch included. Friday we have a special tour at nearby Blithewold Gardens concluding with a boxed lunch at the mansion. Plan your trip to include extra time to explore many other area attractions on your own, including Green Animals Topiary Gardens, Herreshoff Marine Museum/ America's Cup Hall of Fame, self-guided town tree tour, and more!
Click here for Itinerary and pricing
 Tour size limited, sign up early!
West Tisbury Library Collaboration Project
For several months the Arboretum has been collaborating with a committee form the West Tisbury Library to work on the landscape design for the library renovation project. Part of our mission is to be a plant resource center for our community and share our horticultural knowledge for the benefit and education of others. This project fits this mission perfectly. Read about it here!
Massachusetts Botanical Gardens

We have recently collaborated with other Massachusetts Botanical Gardens to create a website to promote garden visitation in the state.
Check it out to discover the diversity of gardens in our state!
Solar Panels Installed
This spring South Mountain Company in West Tisbury installed solar panels on the roof of our Littlefield Maintenance Building. These panels have begun to generate power and will produce 40% of our entire electrical needs. Reducing the cost of electricity and lowering fossil fuel consumption will be the direct result. The Littlefield Maintenance Building is located just south of the Arboretum collections boundary and supports our gardeners, interns, and volunteers. The south-facing location is ideal for the placement of solar panels. Also the panels will not be visible to our visitors and will have no aesthetic impact on the old farm-like vernacular of the PHA we all treasure. Thanks to everyone who contributed to this project.

Greenhouse Projects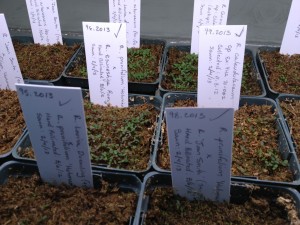 August may seem like an unlikely time to appreciate azaleas, but that is precisely when the white, pink and fiery orange-red flowers of several deciduous azaleas (technically rhododendrons) brighten our mostly green landscape.  Last August PHA staff took advantage of this floral wealth to introduce interns to the science and practice of creating hybrids by controlled, hand pollination.  Polly Hill commented that she wasn't a pollen pusher, but we find no shame in playing the role of match maker!  The seedling shown here are each genetically unique and are the results of our efforts.  These tiny seedlings will grow quickly with supplemental light, warmth and regular fertilization, but it will take several years to evaluate their horticultural merit.  Who knows, but our hope is that a couple will prove to be worthy of naming and introducing…stay tuned!
ArbNet Level IV Accreditation Awarded
We have been awarded a Level IV Accreditation through the Morton Arboretum's Register of Arboreta and Accreditation Program, ArbNet.  The purpose of the Register is to identify all of the organizations that collect and display trees, shrubs, and other woody plants for the benefit of the public, science, and conservation. Organizations listed on the register are accredited at different levels depending on degrees of development, capacity, and professionalism. The Polly Hill Arboretum is now recognized amongst other national and international professional public gardens with the highest level of ArbNet accreditation. Level IV Accredited Arboreta have met the highest levels of arboretum standards, including those specified for Level I, II, and III and demonstrate additional institutional capacity to collaborate on scientific and conservation activities related to trees. For more information about the program go to www.arbnet.org