Adult Education
We are proud to bring high-caliber speakers to the Vineyard every summer and would like to thank our friends and sponsors, Bartlett Tree Experts,  Donaroma's Landscape & Nursery Services, Heather Gardens,  Middletown Nursery, and S.B.S. The Grain Store for their generous support of our lecture series.
Program line-up for 2016
We have had a great 2016 summer season, featuring many great speakers and workshops.  Speakers included Richard Hawke, from the Chicago Botanic Garden's Plant Evaluation Program; Dave Barnett, Director of Mt. Auburn Cemetery; Mal Condon from the Hydrangea Farm on Cape Cod; Teri Chase, author of Seeing Seeds; and Murphy Westwood, Tree Conservation Specialist from the Morton Arboretum. Check our Programs page for updates and more information.

Check here for our Calendar-at-a-Glance
To let us know what you think of our programming please contact us at [email protected]
Family Book Series
Tuesday, August 30, 10:30am ( every Tuesday through August)
Relax under the shade of a tree and enjoy summer with your family while listening to a story read from a nature-based children's book by one of our volunteers. A simple walk or activity related to book will follow. Books will be selected for children 3-8 years old, although all ages are welcome! Bring a small blanket to sit on; rain location is the Far Barn. No Charge.
Want to extend your Arboretum adventure? Pack a picnic lunch; we have a designated picnic grove near the Visitor Center.
 

Drawing from Nature
Thursday, August 25 (additional classes September 8 & 22) August 25 is sold out
9:30am – noon
Develop the confidence and skill to render the wonders of the natural world with artist, illustrator, and nature enthusiast Genevieve Jacobs. Using simple materials and techniques, participants will learn skills and principles that allow the inner artist to emerge! Develop personal style while learning about materials, perspective, value, and the art of accurate observation. Start a nature journal, further develop your sketches, or simply spend productive time in a beautiful outdoor setting. Each class covers a different topic and may be taken individually or as a series. Materials will be available for nominal fee.
$30/$25 for PHA members. $25/$20 per class for 2 or more sessions. Space is limited, please pre-register and call for supply list.
Looking Together
Tuesday, August 30, 2-3pm
Learn more about the Arboretum and our collections on these guided walks and talks led by our knowledgeable staff and docents. These specialized tours have been designed to offer an in-depth and unique Arboretum experience.
Join Curator Tom Clark for a look at his favorite trees and highlights from his 10 years as Arboretum curator.
The Spell of the Sensuous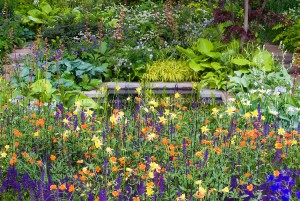 Wednesday, August 31, 7:30pm
In this provocative lecture renowned horticulturist Chris Woods will share his passion for plants and illuminate the intimate relationship between plants and humans. Chris will explore sensuality and its relevance to horticulture and ask the audience to unearth their creative selves using gardening as a means to reconnect to the wild and deep magic of the senses. He will cover the value of gardens in creating a healthy society and what needs to be done to help our children overcome "nature deficit disorder."
Chris was the first director of Chanticleer and has worked in the garden world as a director, consultant, and gardener for over 30 years. Please join us for this exploration of the human attraction to landscape, gardens, and flowers. $10/$5 for PHA members.