Adult Education
We are proud to bring high-caliber speakers to the Vineyard every summer and would like to thank our friends and sponsors, Bartlett Tree Experts,  Donaroma's Landscape & Nursery Services, Heather Gardens,  Middletown Nursery, and S.B.S. The Grain Store for their generous support of our lecture series.
Program line-up for 2016
We have had a great 2016 summer season, featuring many great speakers and workshops.  Speakers included Richard Hawke, from the Chicago Botanic Garden's Plant Evaluation Program; Dave Barnett, Director of Mt. Auburn Cemetery; Mal Condon from the Hydrangea Farm on Cape Cod; Teri Chase, author of Seeing Seeds; and Murphy Westwood, Tree Conservation Specialist from the Morton Arboretum. Check our Programs page for updates and more information.

Check here for our Calendar-at-a-Glance
To let us know what you think of our programming please contact us at [email protected]
Fall Plant Sale
Saturday, September 10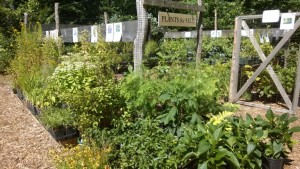 10am – 2pm
Late summer and early fall is a perfect time to plant. Join us for our end-of-the-season plant sale. Arboretum staff will be on hand to answer questions and offer advice. We have chosen trees, shrubs, and perennials, including many Island natives which are suitable for our Vineyard climate. Free admission.
The Environmentally Friendly Lawn
Saturday, September 10
1-2pm
We use more fertilizer on our lawns in the U.S. than India uses on all food crops. 78 percent of the pesticides applied on Cape Cod and 30 to 40 percent of municipal water is used on commercial and residential lawns; golf courses use another 9 percent of the total pesticides. Michael Talbot, co-owner of Cape Cod–based Talbot Ecological Land Care, is an early pioneer of organic land care and sustainable landscape design. Join Michael for this comprehensive program on how to reduce lawn area and care for lawns in a way that better protects people, pets, and the environment. No fee. Sponsored by Middletown Nursery
Looking Together
Tuesday, September 13, 2-3pm
Learn more about the Arboretum and our collections on these guided walks and talks led by our knowledgeable staff and docents. These specialized tours have been designed to offer an in-depth and unique Arboretum experience.
The Finest Cut: Taking the Fear out of Pruning
Saturday, September 17
1-3pm
Join PHA Horticulturist/Arborist Ian Jochems to learn how to take the fear out of pruning. Ian will cover techniques such as directional pruning, shrub rejuvenation, and the three-cut method as well as tool maintenance. Learn some basic plant physiology and how plant genetics and habits inform pruning choices. There will be in-class demonstrations and some hands-on practice. We will also venture out into the collection to observe how plants have responded to our pruning program. All materials and tools will be supplied by the Arboretum.
$30/$20 for PHA members.
Space is limited, please pre-register.
Design for the Home Landscape
Saturday, September 24
10am – 2pm
With a little bit of guidance you can design your way to a more attractive landscape. Join PHA Horticulturist Ben Medeiras for this workshop to hone your landscape design skills. Learn standard design principles that include considerations of history, geology, biology, and ecology of the site. Participants are encouraged to bring their home landscaping projects (upgrading garden beds, potential planting sites) to use as examples for the class to work through for solutions based on design principles discussed.
$50/$45 for PHA members; Pre-registration required, space is limited, please bring lunch.